This comp uses the core of Enlightened units and adds a lot of flexibility with Chosen. There are many options you can explore with different Chosens like Adept, Assassin, Syphoner, or Enlightened.
When to make
Since this comp doesn't need a particular Chosen unit, go for this comp if you can find your core carries Morgana and Talon.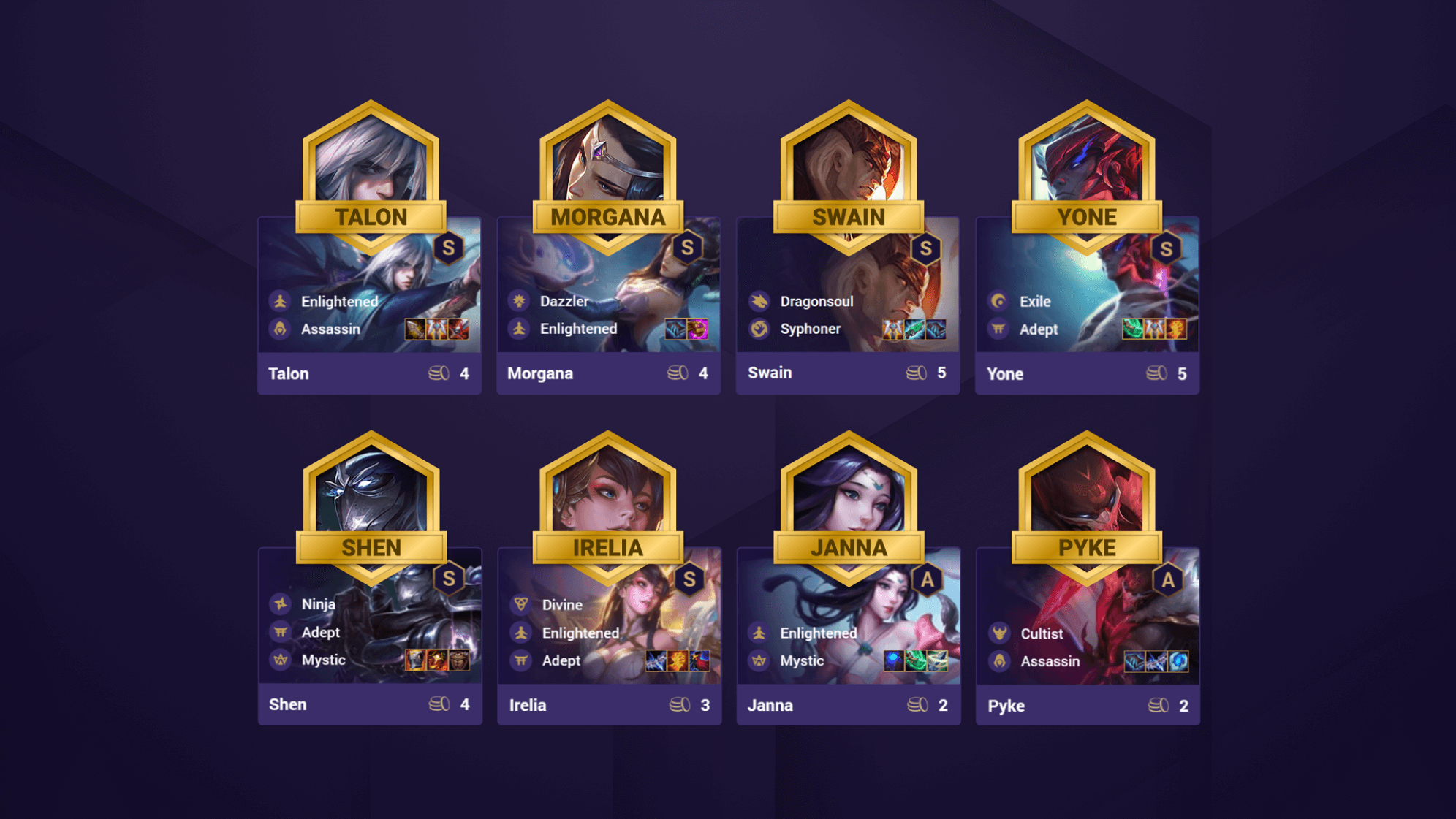 Level up to 4 early if you want to start a win streak. Level up to 5 to try and continue the streak.

If you're weak in the early game, you can opt to save gold and lose streak instead.
At Round 2, level up to 6 regardless of your start. Put together the strongest team you can.
At Round 1, level up to 7. Roll down to stabilize your comp if you are weak. Afterward, save up to hit level 8 and complete your comp.
Early Game
In the early game, Fiora and Janna are your only priorities with the rest of the units being whatever you find.
Mid Game
Your main upgrade in the mid game will be Irelia. You can use other units to hold items for Talon and Morgana until you find them at later levels.
The first basic option for the comp is 6 Enlightened with a Chosen Enlightened. In this case, drop either Swain or Yone for Fiora. If you are able to build a Youmuu's Ghostblade on Morgana, you can drop Pyke instead and still have 6 Enlightened with Swain and Yone.

The next option is Syphoner Chosen. In this case, you will need to drop Yone for another Syphoner unit like Vladimir or Nasus. Once again, if you have Assassin Spatula on Morgana, you can drop Pyke to make room instead.

Lastly, you can also run this comp with a Chosen Adept unit. You won't make any replacements in this case, and will run with 4 Enlightened 4 Adept.