This comp uses Aurelion Sol as the main carry in an Elderwood team. With a Chosen Mage or Chosen Elderwood, you can run 6 Elderwood and 5 Mages. However, if you have Elderwood Spat and Chosen Elderwood, you can go for 9 Elderwood 3 Mages as well.
When to make
Go for this comp if you can get either a Chosen Mage or Chosen Elderwood. Good Aurelion Sol items are also important as he is the main carry.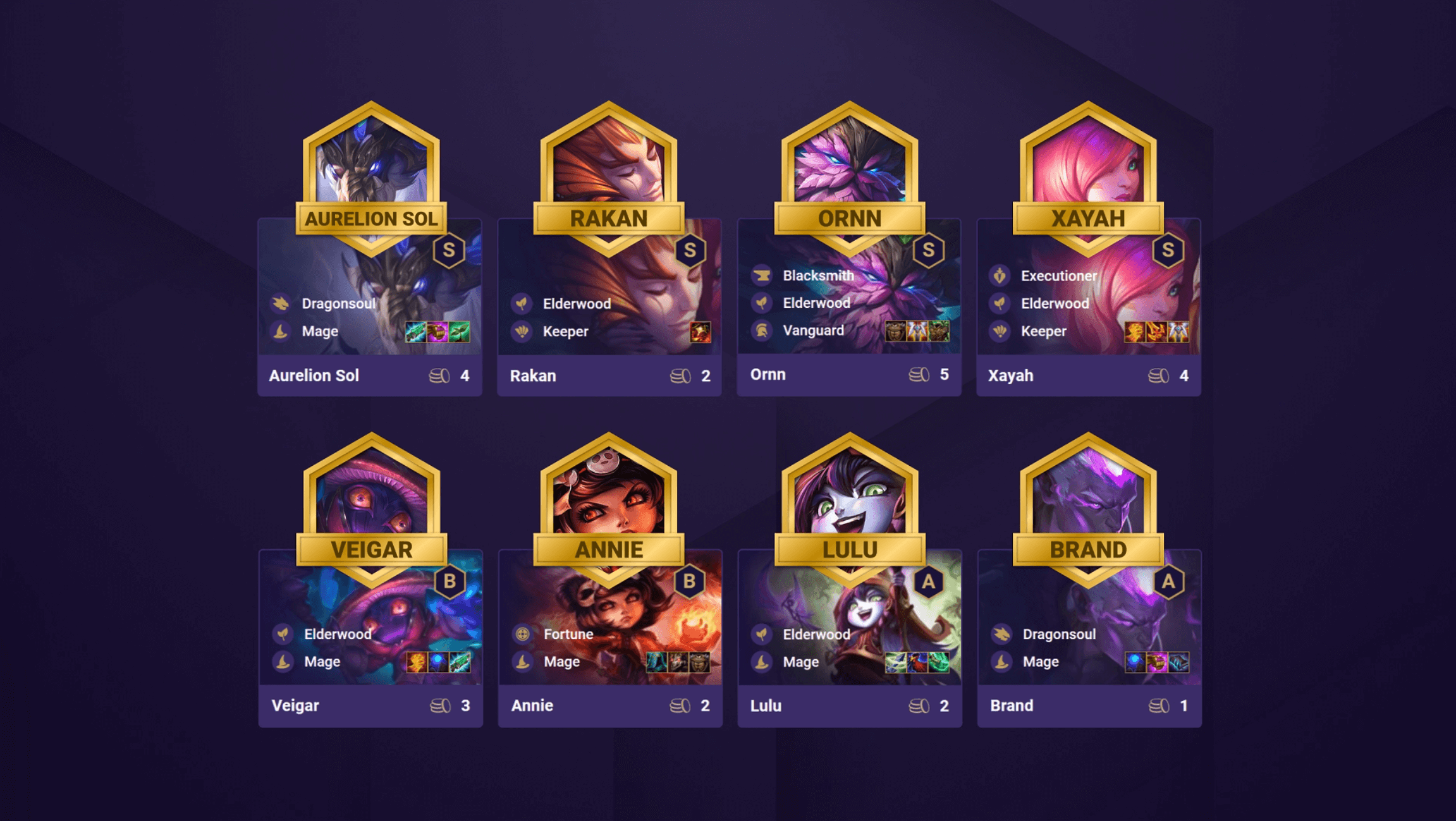 Level up to 4 early if you want to start a win streak. Level up to 5 to try and continue the streak.

If you're weak in the early game, you can opt to save gold and lose streak instead.
At Round 2, level up to 6 regardless of your start. Put together the strongest team you can.
At Round 1, level up to 7. Roll down to stabilize your comp if you are weak. Afterward, save up to hit level 8 and complete your comp.
Early Game
If you are running tanky units with Elderwood, you really want to have Sunfire Cape to deal damage in the early game.
Mid Game
You can run more Elderwood and Mage units, or you can use any 3 cost carry you find to hold items for Aurelion Sol.
If you have a Chosen Mage, replace Brand with a unit like Nunu as you don't have Dragonsoul in the comp. If you are able to go for 9 Elderwood, drop Brand and Annie for Maokai and Nunu to reach 9 Elderwood with 3 Mages.



Aurelion Sol

Hextech Gunblade
20
15


Jeweled Gauntlet
20%
20



Elderwood Heirloom
25



Rakan

Sunfire Cape
200
25