This comp is a flexible version of the classic 6 Duelist Slow Roll. By slow rolling for Nasus, you give yourself more options with Divine Chosen as a possibility as well. Furthermore, this comp can utilize Spatulas for either Duelist or Divine depending on what you need.
When to make
You ideally want to have many copies of Yasuo, Fiora, and Nasus. You can go for either a Chosen Yasuo for Duelist or a unit like Jax or Nasus for Chosen Divine.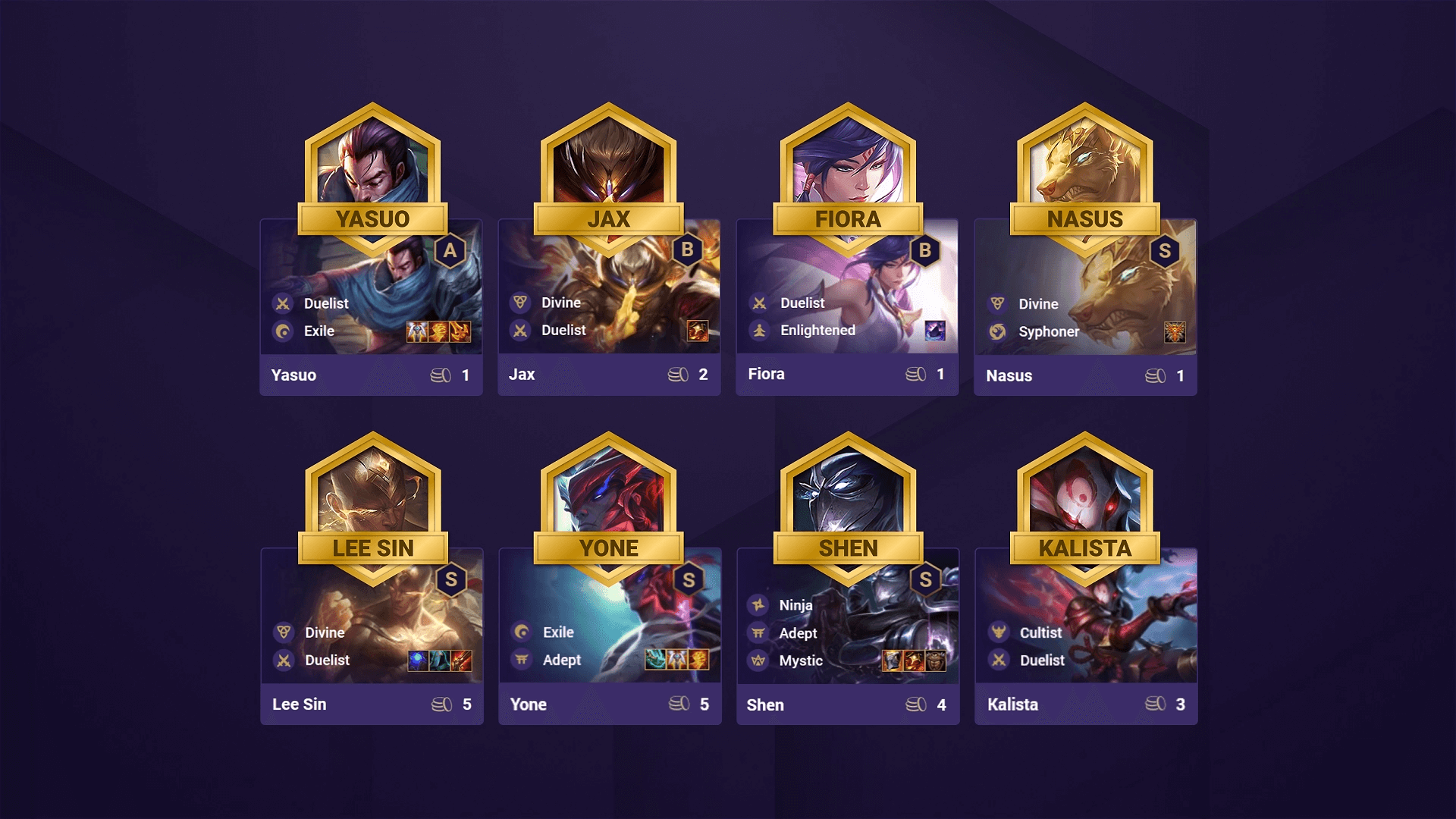 In the early game, don't level and simply buy your core 1 and 2 cost units.
Once you hit 50 gold, begin slow rolling for Yasuo, Fiora, and Nasus.
Once you hit Stage 4, you should hopefully have hit at least 2 of your 3-star units. If you are close, you can hold off just a bit more. If you are far away from Nasus, you can go ahead and drop him for Janna and stop slow rolling.

Once you've decided to stop slow rolling or hit all your 3-stars, begin slow leveling to catch up and add in more units.
Early Game
The early game is quite simple, you have 2 Duelists and 2 Divine.
Mid Game
Simple enough, add in more Duelists. If you have a Divine Chosen, you can also add in a unit like Irelia to reach 4 Divine.
This comp has very many flexible options so I'll try to cover them all if possible. If you have a Duelist Spatula, you can replace Kalista with Kayle and have 6 Duelist 4 Divine.

If you have a Divine Spatula, you can simply place it on one of your carries like Yasuo or Yone. Also note that if you run 4 Divine, it can be a good idea to also look for Jax 3.

If you have a Divine Chosen, you will either need a Duelist Spatula to maintain 6 Duelist, or drop down to 4 Duelist and add in something like Mystic with Janna or Zilean. You can also drop down to 4 Duelist and add in Syphoner with Vladimir or Swain.

Lastly, if you don't find many copies of Nasus, you can simply not run him and run Janna instead for Mystic and Enlightened. This follows the "usual" 6 Duelist comp.