This comp runs the 9 Cultist synergy along with Kalista as the main carry of the team comp.
When to make
Go for this comp if you have a Chosen Cultist and good items for Kalista. Items shouldn't be too hard to build, so mainly try to get a Chosen Cultist and a good streak going.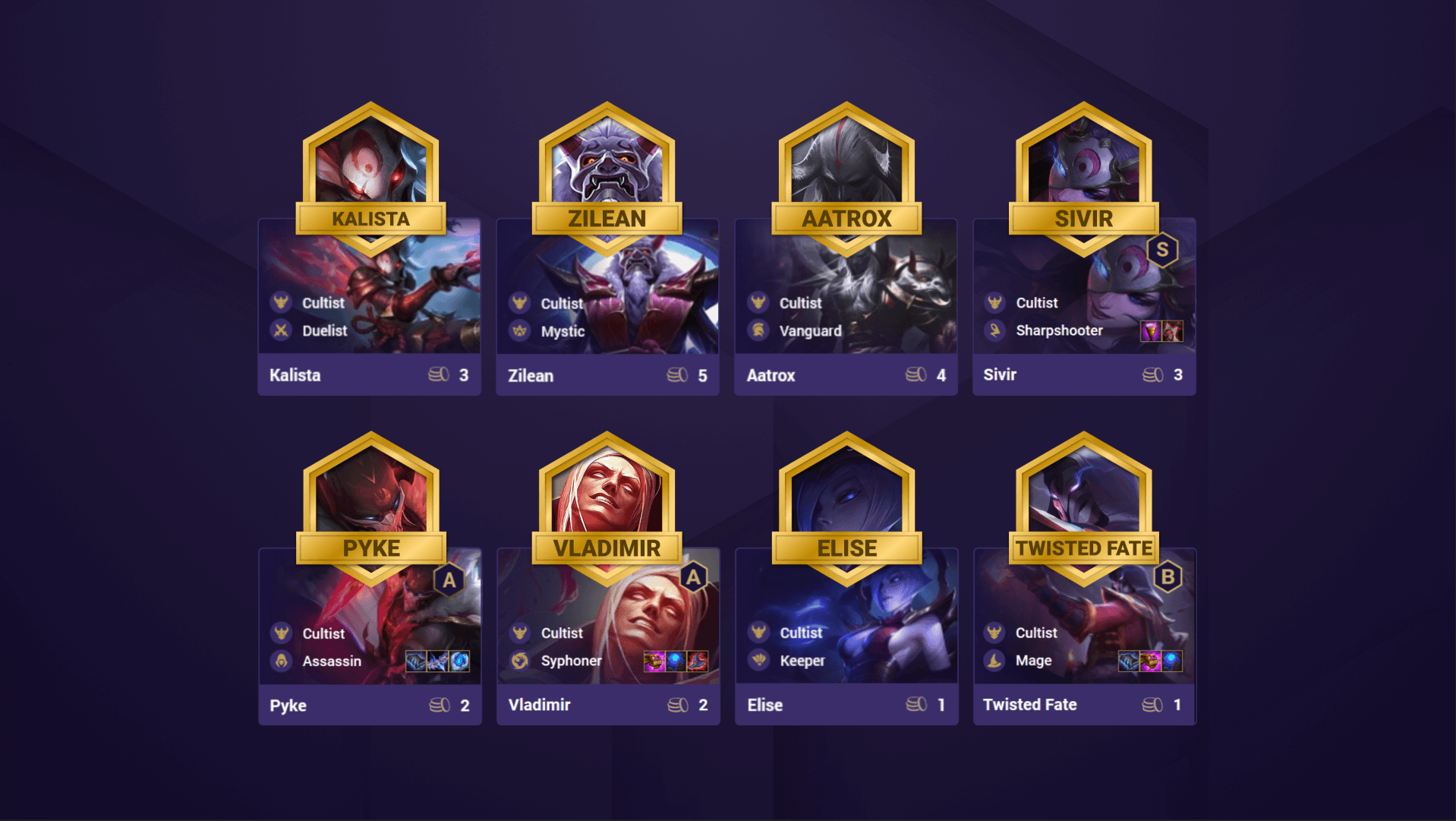 Level up to 4 early if you want to start a win streak. Level up to 5 to try and continue the streak.

If you're weak in the early game, you can opt to save gold and lose streak instead.
At Round 2, level up to 6 regardless of your start. Put together the strongest team you can.
At Round 1, level up to 7. Roll down to stabilize your comp if you are weak. Afterward, save up to hit level 8 and complete your comp.

Once you are at level 8, continue rolling or slow rolling for Kalista 3.
Early Game
Of course, you will want to start out with Cultists. You can use just about any other units to want to pair alongside like Keepers, Syphoners, Assassins, etc.
Mid Game
Continue adding more Cultists. If you have enough for 6 Cultist, go for that, otherwise, add in a Duelist to pair with Kalista. You can also remove Twisted Fate for a better Cultist, but remember to keep him for late game.
Before hitting 9 Cultist, you will want to fill out your team with other transition units rather than simply going for only the Cultists. This can be units like Duelists, Keepers, Assassins, etc.
Kalista
Runaan's Hurricane
+15%
25
Guardian Angel
15
25
Rapid Firecannon
+15%
+15%